Thank you for visiting our site!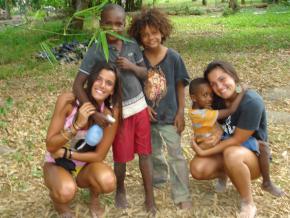 AFRICA AWAITS...My sister, Alexandra, and I have always wanted to share the pilgrimage and enlightenment of a mission trip to Africa. And through much research and years of anticipation, we have finally found the right opportunity and organization to make this possible. Sunrise Center is an orphanage near Cape Town, South Africa in need of assistance with the 300 homeless children they shelter. We have so much to share, as far as heart and mind can reach, and just the same, so much to learn from such an experience...now is our chance to devote ourselves to this mission TOGETHER.
Just as my sister and I have found and nurtured the connection we have with each other, we would like to find a place and connection within the country and its children. We would love the opportunity to incorporate ourselves and our endless potential to help bring some light to this orphanage. We are not only seeking for the chance to volunteer but also to completely immerse ourselves in their culture. We are asking for you to help us make this possible. Any donations would be GREATLY appreciated. Thanks again for looking into our mission :)
More Information About Our Mission
Most African countries have large numbers of people living with HIV/AIDS. This results in a lot of children being left behind due to parents dying from HIV/AIDS and being left with no one to look or care for them. Sometimes children are simply abandoned because their parents have no means to provide for them. The child/orphan care program work consists of caring for children at these centers, providing education and designing activities for the children and helping with general duties of the center, such as teaching, feeding, cooking, and caring for children and babies. Sunrise Center looks after children from poor backgrounds where most parents cannot afford to buy food at home or pay school fees. This project runs to provide support to young children in need and assist the classroom teachers with teaching children to talk, paint, draw and make colorful murals.

Please Help Us By Donating



Donations would make this mission trip possible and would be greatly appreciated. The funds raised will

be used by my sister and I for airfare and any other travel expenses, immunization, insurances,

organizational program fees and registration fee. The program and registration fees include meals and

accommodations at the volunteer home. If any funds remain, they will be donated directly to the

orphanage. If you are interested in sponsoring us and helping with our trip to South Africa, please click the

yellow DONATE button found at the top right of this page. We would also love it if you would share the word and our mission with your family and friends!
Thank you so much for your support! And we hope to share this experience with each of you and, in turn,

influence others to reach out and make a difference where they can. We hope this is the beginning to

endless possibilities :)

If you would like more information on the International Volunteer HQ, and the programs they have

established world-wide, please visit http://www.volunteerhq.org. You can also contact us directly at southafricaawaits@yahoo.com.

A MILLION THANKS,
Maria and Alexandra Chaar